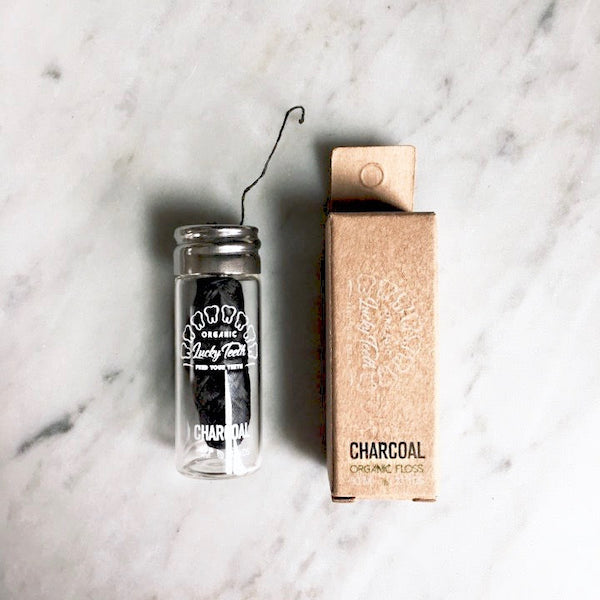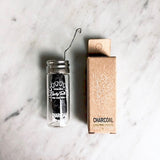 DENTAL FLOSS *SALE*
lucky teeth // glass jar
TAKE 25% OFF
 THIS ITEM 

WITH CODE "GOODBYE"

 

AT CHECKOUT. NOT VALID WITH ANY ADDITIONAL DISCOUNT OR OFFER.
VIEW THE REST OF THE 25% OFF SALE ITEMS HERE.
Lucky Teeth's 100% biodegradable vegan bamboo dental floss comes in an eco-friendly glass container with metal dispensing lid. Breaks down in approximately 60-90 days and contains no gluten, preservatives, artificial coloring or sweeteners - just a mild flavor from pure peppermint and tea tree essential oils.
If you aren't able to recycle or compost this item locally, simply send it back to us and we'll take care of the rest ❤️♻️
100% natural & vegan.
Lucky Teeth bamboo charcoal floss (33 yards per roll):
bamboo fibre

activated charcoal

candelilla wax

biodegradable polyester (20%) 
peppermint essential oil*: analgesic, cooling, anti-inflammatory, fights tooth decay

tea tree essential oil*: anti-viral, anti-bacterial, soothes pain
*organic
These statements have not been evaluated by the Food and Drug Administration. This product is not intended to diagnose, treat, cure, or prevent disease.
Gently pull out floss and roll around index fingers

Floss between teeth, as close to the gumline as possible

Purchase refills to keep reusing the same glass jar

For maximum longevity, store in a cool, dry location away from direct sunlight.
Our organic skin care products are handcrafted in small batches and packaged in recyclable containers. We have been lovingly creating in our home studio in Portland, Oregon since 2013. Each new product is tested on willing friends and family, never on animals. 
Please review our shipping and return policies before placing your order.