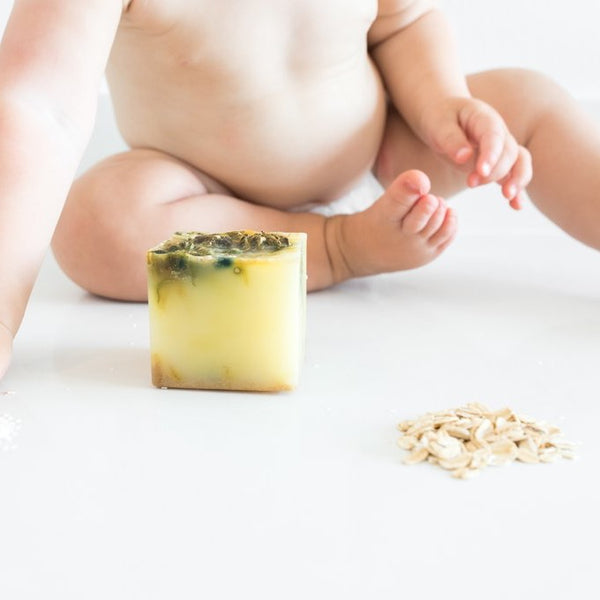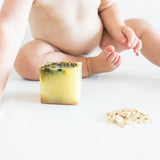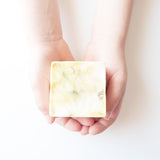 BABY SHAMPOO & WASH
urban oreganics // 6oz. soap bar
Our calendula + oatmeal 2-in-1 baby shampoo & wash bar contains no harsh chemicals and will leave your little one's skin feeling clean and soft. The oils and butters in this wash fully moisturize, so no need to lotion up afterwards. 
Packaged in a recyclable/compostable paper box. If you aren't able to recycle or compost this packaging locally, simply send it back to us and we'll take care of the rest ❤️♻️
Keep your bar dry between uses with our modern concrete soap dish.
Bar soaps not your thing? We include super simple instructions to turn your cleansing bar into a liquid wash. Grab a glass soap bottle and fill it up!
Our ingredients are always 100% natural & vegan.
pure virgin coconut oil*: hydrates and conditions skin, retains moisture, anti bacterial
coconut milk*: detangles hair, retains moisture
calendula*: anti inflammatory
gluten-free oats*: anti inflammatory, removes dead skin cells, mineralizes dry skin
sea salt
distilled water
*organic  
These statements have not been evaluated by the Food and Drug Administration. This product is not intended to diagnose, treat, cure, or prevent disease.
For easiest use, cut bar in thirds and store excess pieces in provided box.
Lather onto skin and hair, massage with soft wash cloth and rinse with warm water.
For maximum longevity, store in a cool, dry location away from direct sunlight.
Our organic skin care products are handcrafted in small batches and packaged in recyclable containers. We have been lovingly creating in our home studio in Portland, Oregon since 2013. Each new product is tested on willing friends and family, never on animals. 
Please review our shipping and return policies before placing your order.